At RS Digital, we find ourselves tackling a wide range of different subject material, thanks to the diverse collection of clients we've partnered with. We can be talking about car leasing one day, e-cigarettes the next. For this blog post we're going to talk about one particular client who sells to those who find themselves in gun battles on a regular basis. No, we aren't doing SEO for a crime syndicate or the army, it's for the BB and Airsoft gun company, JustBBGuns!
JustBBGuns launched in 2009, initially selling 2 tone toy spring guns, but they quickly took hold of the BB/Airsoft market in 2012 when they opened up their own store in Feltham and became UKARA registered. They've grown from strength to strength since, offering a wide range of gun types, makes and accessories for every gun enthusiast looking to battle it out across the many Airsoft venues across the country. With a steady stream of new stock and YouTube videos to highlight their latest ranges, they're on top of all things BB and Airsoft!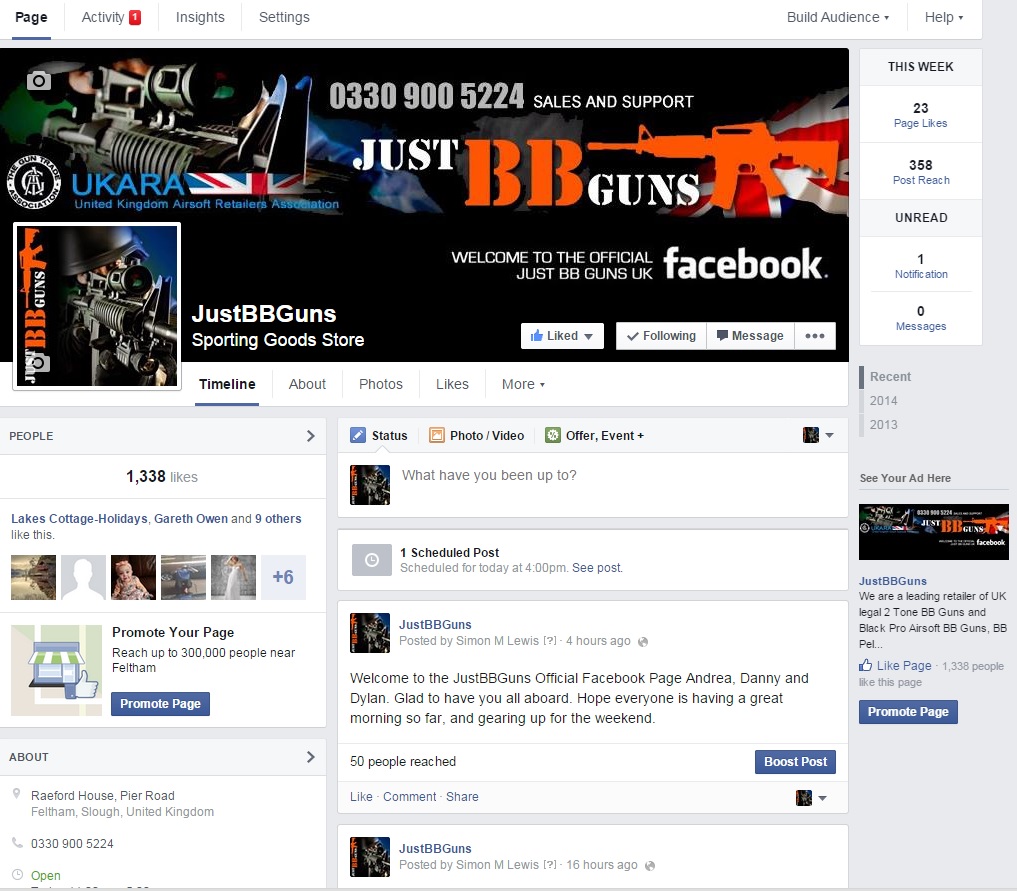 For JustBBGuns we aid with the company's SEO, written content and Social Media, which has helped increase their presence on Facebook,Twitter and Google+, and their overall ranking on Google. Currently,  JustBBGuns hold the number one rankings for the keywords bb guns, bb gun, and cheap bb guns, with airsoft buy effexor without prescription guns sitting at an impressive third place spot. The high results are just the impact you can see with our SEO white hat techniques!
The testimonial below shows just how close our partnership is with the company, and the benefits of working with our team at RS Digital to help build presence and free your time up for running your business:
We have now been with RS Digital for a number of years; their honesty and outstanding work in relation to our website optimisation has enabled us to reach and stay at the top of Google on many of our target keywords. When they launched their Social Media managed service I had no hesitation in giving it a go. I am glad to say that the service has exceeded my expectations both in communication with the team and the quality of work. RS Digital has successfully taken all our Social Media channels including Facebook and Twitter, giving me total peace of mind knowing that each day a different post will go live and any unpleasant comments or posts are dealt with quickly.

In my busy working day where there is just not enough time to get everything done, giving the Social Media management to RS Digital is one of the best decision I have ever made.

Mark Watts
Managing Director
Just BB Guns Ltd
JustBBGuns: www.justbbguns.co.uk
Facebook: www.facebook.com/justbbgunsuk
Twitter: twitter.com/Justbbgunsuk
Google+: plus.google.com/u/1/b/107824801095540173604/+justbbguns/posts/p/pub
JoeRayW
Senior Researcher