April 21st will be a big day for many companies as they scramble to make sure their site is mobile friendly. It's a new measure Google will be using for its algorithms to determine how high a site will rank on its search engine, and for those unprepared, only a drop in rankings awaits.
Not So Mobile Friendly
There are a number of methods to go about making a site mobile friendly, and many ways to go the wrong way too. Many companies will be rushing to push their mobile friendly sites out of the door, but this is when the mistakes will be made. And Google will certainly pick up on them.
A page can be made to be mobile friendly, but issues which often crop up from those who don't have the right skills in place can find themselves falling into a few traps.
One of the first issues many mobile friendly built sites fail to upgrade is the video player in place. Many sites use Flash, a format which mobiles hate, with videos failing to load up thanks to the lack of support provided for the format. HTML5 is the way to go and its a standard which all sites need to be following if they hope to maintain a site which is suitable for both desktops and mobile devices.
Having a responsive site is all part of being mobile friendly, but for many that's tough to accomplish. A site may run okay on a desktop and fit many of the mobile friendly requirements, but it won't necessarily run well on the mobile devices. And mobile users aren't quite as patient as desktop users, opting to check out sites on the go, while snug at home, and with more people taking to mobile online than ever before, it would result in a ton of lost business.
A number of technical details can also cause chaos on the move, with links leading to desktop pages or fresh 404 errors rather than being redirected elsewhere. These issues come from not distancing the two site types while providing options to cater for mistakes in both areas. There needs to unity and exclusivity, something which can be hard to achieve.
There are a wide range of issues that one may encounter when trying to get their website mobile friendly in time for the 21st, and without the right experience and knowledge, few will be able to achieve results which will suit Google's new algorithm changes. It takes a company with expertise in the field of web design to meet the standards Google require, and RS Digital is that company you need to get your site ready in time for April 21st.
Get Mobile Friendly with RS Digital
There is still time to go mobile friendly and not suffer the penalties Google are waiting to dish out, and there is time to do it properly thanks to our talented tech team here at RS Digital. We can provide a responsive site suitable for both desktop and mobile devices, and we can further enhance your search engine optimisation thanks to the range of services
To view the full range of SEO services we offer, visit our main page today, and get in touch with a member of our team to get your site mobile friendly in time for the 21st!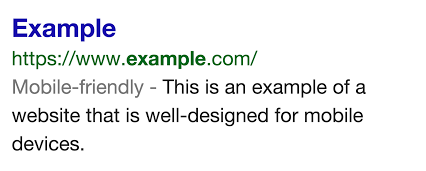 JoeRayW
RS Digital
Senior Researcher