How many times has internet data usage on a phone been wasted by websites which just aren't suitable for mobile phones? The site will chug away as it attempts to load up, but in most cases it will throw you back to your phones home screen or eventually open up for access, but the access is a constant struggle thanks to sluggish scrolling and buttons which just don't seem to want to work. It happens too many times, but now Google has made things easier by labelling just which sites work wonders on the move.
Mobile Friendly World
Having just a desktop website in this day and age isn't good enough. The amount of people accessing the internet via mobile phones and tablets is on the rise year on year, and a site which can't perform on a portable device, will just have visitors turning away. And now people can see exactly which websites will run smoothly, thanks to a 'mobile-friendly tag next to any site, displayed on Google's search pages. They can determine just which sites are user friendly with their stringent Webmaster tools, meaning you can be assured clicking the site won't be a waste of your time. And if it is, it's the websites contents fault, not the performance.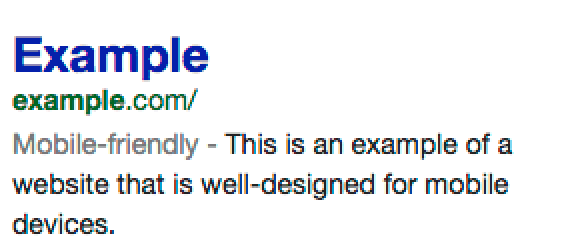 Tests have been run by Google over the last few months, using icons and text in attempts to find the right way to display the information, and they've settled on text now the mobile friendly notes have been added for everyone to see. There is even an official guide available for companies on how to build a mobile site, and Google have encouraged users to let website owners know that their site isn't pulling it's weight on the mobile front. It can cost rankings if the site isn't up to scratch on desktops and mobiles, but RS Digital can see to that.
 Web Design with RS Digital 
It can be tough to build a website, desktop or mobile, but with RS Digital you don't have to. Our team of expert web designers will build a website tailored to your business's needs, and will also make a mobile-friendly version to help with rankings and customer satisfaction. For more information on our services, visit our main page and contact one of the experienced and friendly members of the team. The world is a better place without sluggish phone sites.
JoeRayW
RS Digital
Senior Researcher