If users want to see less pregnancy, parenting, dating, and weight loss advertising on YouTube and Google Display, they may opt-in.

Google is now allowing consumers to view three more sorts of advertising less frequently:

Parenthood and pregnancy
Dating.
Loss of body weight

The corporation announced today a global expansion of user controls that were implemented in 2020, which prohibited alcohol and gambling advertisements.

Advertisements on YouTube and Google Display are examples of this. Initially, viewers on YouTube could only restrict alcohol and gambling adverts. Users may now ban these adverts on Display thanks to today's release. Users may also restrict the three new ad categories on YouTube and Display.

Not zero, but less. There is a key difference to be made here: Google only limits these sorts of advertisements. This is not to say that a user will never see a weight loss or gambling advertisement. They will merely see "fewer" of them.

As we stated in 2020, it's very hard to ensure that a user who opts out would never view an ad in one of these categories, short of an ad ban.

Due to the sensitive nature of certain categories, extra limitations may apply depending on your country.
How people may opt out. This option may be found in the Ad Settings section of the Google Account dashboard. This is how it appears: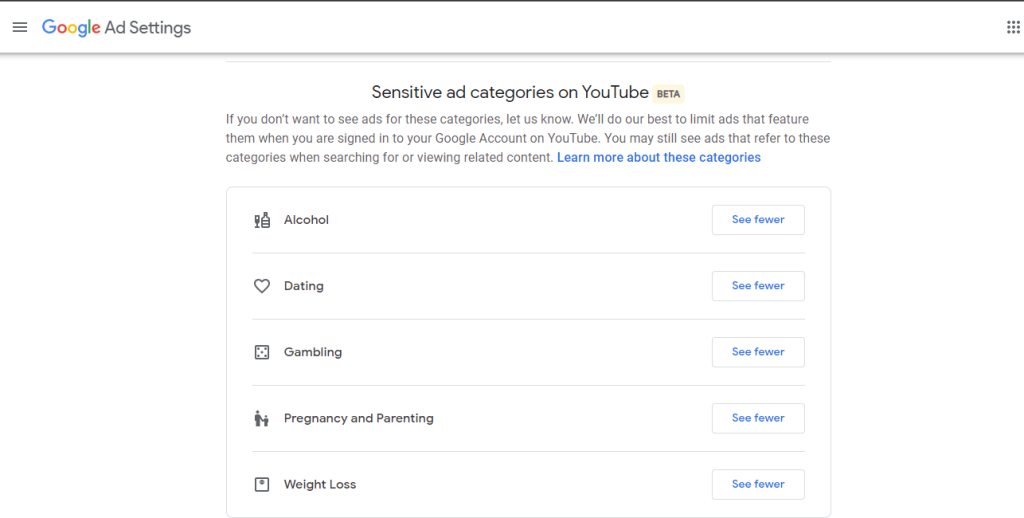 Will there be more? Google appears to be thinking about expanding this function even further. Ads Privacy, according to Karin Hennessy, Group Product Manager:

"People want more control over their ad experience, including the ability to reject advertising or categories they don't want to view." Transparency and control have always been important to us, so we're increasing our tools to give you the option to view fewer pregnancy and parenting, dating, and weight loss advertising. We'll continue to listen to customer comments and research potential categories to include in the future."

Why should we be concerned? Google's decision to allow consumers to restrict the sorts of advertising they see in sensitive categories is a wise one. Because it is an opt-in option, individuals must be aware of it and take the time to implement it. I've asked Google how many people use the ad limiting function and will update the article if I receive a response.

Marketers should experience little impact. At worst, these limits may result in improved ad targeting by preventing persons who are extremely unlikely to convert from seeing your adverts.