The Importance of Quality Website Design and Development
It is imperative that all businesses looking to succeed online, whether that be through promoting their brands, or encouraging individuals to buy their products and services, ensure that they have good websites in place – Websites must not only look the part but boast impressive functionalities too.
Luckily for all here at RS Digital we have now introduced pay monthly options for businesses across the county to benefit from, allowing businesses to obtain high quality websites with no upfront fees, instead able to pay for their brand new websites over time periods of their choice.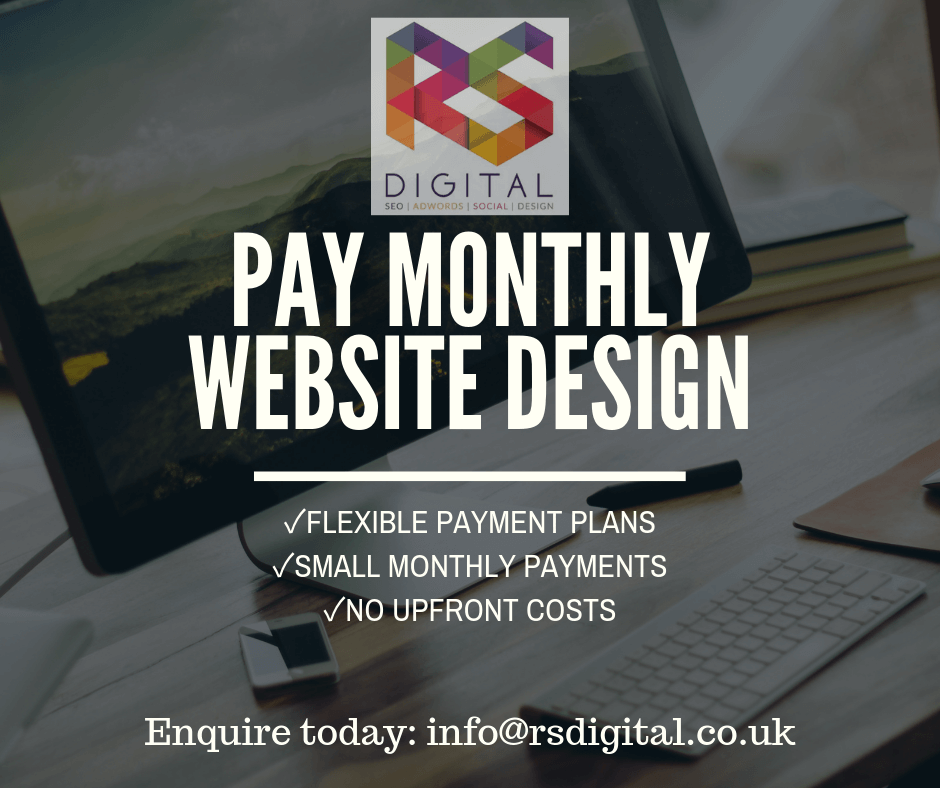 More and more companies are now choosing to market their businesses, products and services online using other avenues such as Social Media, however it is still vital that these companies have the best websites possible in place for a number of reasons including:
• When people visit websites it often provides them with the first impression of a business, with audiences quick to judge websites within a matter of seconds. Upon your site loading it is important that positive impacts are made on audiences straight away
• Websites are accessible to the public including customers and clients, 24/7/365, if people visit your site and cannot find what they are looking for they will quickly leave and visit one of your competitor's sites
• Having a quality website in place ensures the maximum amount of online business, with more people now shopping for products and services online than ever before.
• Search engine optimisation is bar far the most popular online marketing strategy and this can only be completed to high standard for businesses that have high quality websites.
• It is important for companies branding to be consistent throughout the web, and this includes on their websites ensuring that their brands are instantly recognisable.
RS Digital marketing – Pay monthly Website Design and Development
Understanding the importance of having a high-quality website here at RS Digital we are now proud to introduce brand new payment plans and schemes which allow companies to obtain websites with amazing aesthetics and functionalities, and no upfront costs, instead now able to pay for their website and design and development over 12 months – 5 years.
Here at RS Digital we are able to create and build websites of all sizes, from small local business websites to large, corporate and ecommerce websites. All of the website designs and builds that we complete are clean, well-organised, easy-to-navigate, clean, modern, functional and branded, motivating visitors to do businesses with the company's that we build website for.
More information regarding our website design and development services is available here: https://www.rsdigital.co.uk/design-and-development/
Alternatively, if anyone would like to discuss our website design and development payment plans, they can call our team on 01282 452096 who are always happy to help.