Lovelocalexpo is an annual exposition of businesses from all sectors and corners of Lancashire that draws company owners, professionals, and entrepreneurs from all around the north-west. Attend professional lectures and meet new clients, suppliers, and colleagues. Discuss business support, scalability, funding, apprenticeships, upskilling, and growth with industry professionals.
The location was the cutting-edge Impact conferencing in Burnley. That provided free parking and an on-site cafe, allowing us to spend the day connecting and expanding our business.
This brought buyers and sellers from all around Lancashire together. As a result, we were able to increase our presence throughout the county while also gaining significant face-to-face brand exposure.
Attending the Love Local Expo, which was jam-packed with everything our firm needed to reach the next step, was great. Meeting new clients, suppliers, and co-workers by attending professional seminars. With industry specialists to discuss company support, scalability, finance, apprenticeships, upskilling, and growth.
Keynote addresses are always on timely topics that appeal to individuals from all walks of life. The presenters are professionals in their fields, allowing us to leave with new ideas and motivation to help RS Digital grow and thrive.
There was also an informal lunchtime Speed Networking session, where we made a lot of great connections in a short period of time.
It's fast, furious, and a firm favourite among regular show visitors.
We have first-hand experience with the possible outcomes of this situation. The 2022 expo was like a corporate version of Friends Reunited! Everyone who was anyone was there!
We built and re-ignited existing contacts throughout our day visit, which led to new commercial chances.
Had a fantastic show
We had a unique banner with an Exclusive Show Offer on it to entice guests in, which included a 15% OFF voucher and a fortunate lottery for any business present to win a 6-month FREE local SEO!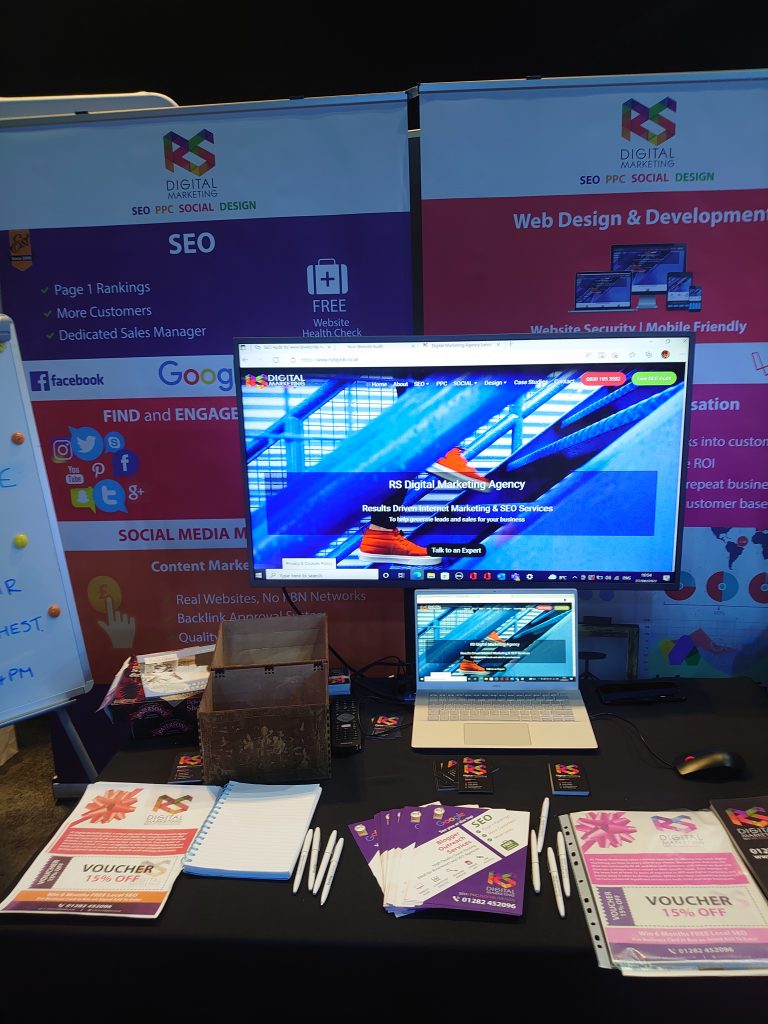 Our FREE 6-month SEO includes:
The primary purpose of SEO is to raise a website's search engine ranks as high as possible. There are several SEO aspects that come into play in order to do this.
Management of social media
Social Media Marketing Plan – We collaborate closely with you to develop a comprehensive social media plan. Everything from platform selection to content ideas and publishing frequency is covered. We take care of the tough lifting. Social media is a kind of communication, and successful communication begins with listening.
Services for Content Marketing
You may boost the ranks of your website in the search results by employing high-quality material and relevant keywords in your website content, as well as regular onsite blog entries. We work on bespoke content marketing, such as specialised high DA guest blogging, to increase the traffic to your website.
Web development and design
Every website we create at RS Digital Marketing is totally responsive, which means it will appear great on a large screen as well as a smartphone. This is not only beneficial to your viewers, but it is also necessary for SEO. Our websites are built so that you can quickly update information and build new pages on your own.
Below are a few snaps from our time at the Expo!