The SEO community danced with joy earlier this week with Google announcing that the new Google Search Console is now home to a brand new function (which used to be on the old Webmaster Tools) – The Change of Address Tool, which is now included in the settings section of Google Search Console. Google revealed this new function on twitter, writing " in Search Console: a new interface for "Change of Address". Let us know when you're moving a domain or subdomain 🚚 🚚 🚚, and we'll guide you through the process. Check it out.", however with the search engine giant now receiving many enquiries, here at RS Digital we have also made ourselves available to aid anybody looking for further advice and information.

The New Change of Address Tool
The new Change of Address Tool now available within the settings of Google Search Console provides business owners with a good way to communicate to Google that their websites have moved to new addresses. This tool is now in place to inform Google when sites move from one domain to another, assisting to migrate Google Search results from old sites to new sites, thus ensuring that websites don't lose as much in their rankings which they have worked hard for.
This is what the new tool looks like: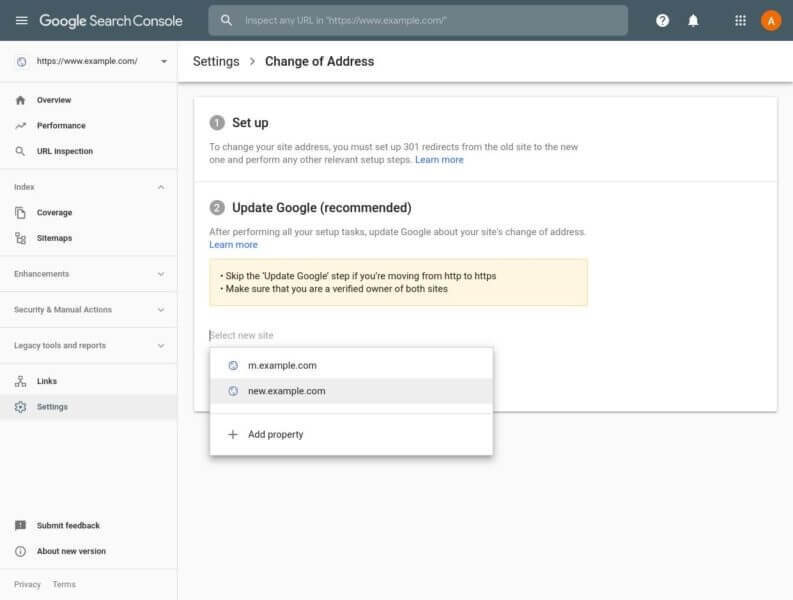 The Change of Address tool is one of the fundamental tools used by SEOs and webmasters across the world when it comes to migrating sites from one URL to another, helping Google pick up the changes faster and more efficiently. It is a tool that we use a lot here at RS Digital, understanding all of the greatest ways of using the feature for SEO purposes.
If anyone has any questions about the Google Search Console's new Change of Address tool our team are here to help and only a phone call away.
Don't hesitate to call our office on 01282 452096 to get all of your Google Search Console and SEO questions answered.